DPA hosts CONNECT Get Together, Create, Connect and Chill

14/10/2023
12:30 pm - 2:30 pm

Are you overwhelmed, bored or disenchanted with constant streaming and online events? Do you find it difficult to switch off and have no real downtime? Are you struggling to focus at work and bring new fresh ideas and perspectives?
Why not take time for yourself to destress, meet like-minded people and embrace that creative streak for deeper relaxation and connection?
I invite you to our relaxed, informal and easy-going Connect, Coffee, Cuppa, Create and Chat Get Together. I have decided to host this little mixer in response to the over-abundance of online social events, and a craving to connect with people about work-life balance and how creativity can help us de-stress our lives.
#### IN THIS UNIQUE EVENT YOU WILL…
• Share tips and tricks for well-being and how creativity can help us
• Engage with like-minded people
• Destress and relax!
#### WHAT WILL HAPPEN IN THIS SESSION?
SESSION AIM – The main objective of the session is for you to destress by doing some light and simple creative tasks and connecting with like-minded people.
#### WHAT DO YOU NEED TO TAKE PART?
Come along and bring an open mind, simple creative supplies and conversation will be provided. You are welcome to bring your own hobby with you if it is portable and unintrusive to the group.
### WHAT WOULD YOU SAY TO SOMEONE THINKING ABOUT JOINING THIS SESSION?
"Friendly atmosphere, calming environment, a good way to destress" Barnie
Ticket fee included unlimited Teas and Coffee.
Who is Donna?
Donna is an ardent creative personal, and professional development facilitator, delving into the world of expressive abstract art, photography and contemporary crafts. Using her experience and technical abilities, she supports individuals to harness creativity to become aware, switch off, repair and restore life balance.
Donna has a BA (Hons) in Fine Art and has an HEA in Higher Education; she has had the privilege of teaching for 15 years and is a lifelong creative, with a passion for psychology and what makes people tick.
For more information about Donna and her business head to www.thedpa.uk
Lunch isn't provided but there will be an opportunity to grab lunch locally or bring a lunch with you.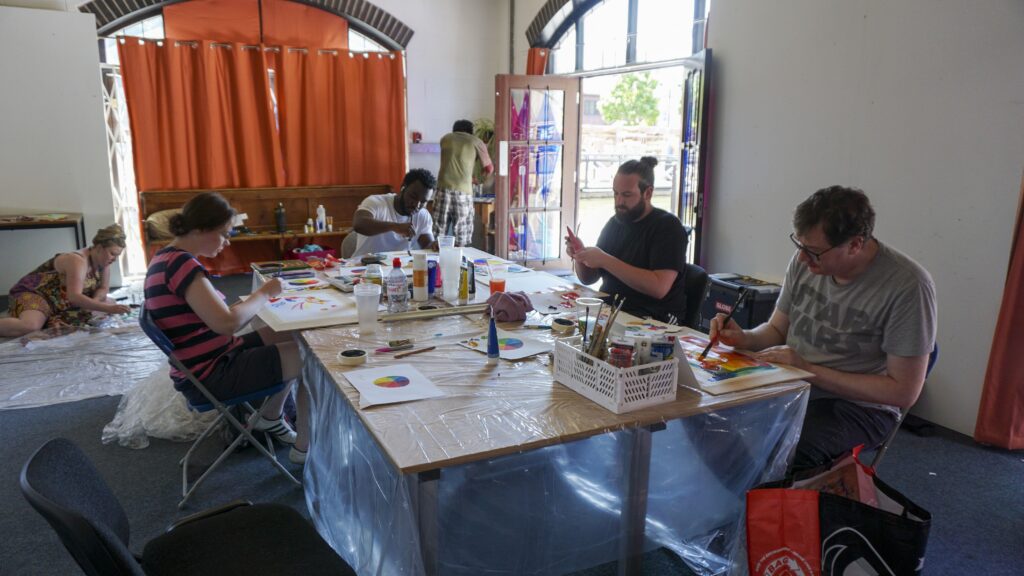 Location
The Tin Community Space