DPA hosts GROW An Abstract Painting Workshop for Work-Life Balance

20/08/2022
11:00 am - 5:00 pm
£40
DPA invites you to our creatively fuelled work-life balance inspired GROW – An Abstract Painting Workshop for Work-Life Balance, for all levels and expertise. It will be taking place at The Tin Community Space, The Tin Music and Arts | Units 1 – 4, The Canal Basin, CV1 4LY.
Day workshop ticket £40 (follow the event link at the bottom of this listing to get your tickets and guarantee your space). *Please note spaces are limited to 15 attendees for quality of delivery*
Are you overwhelmed, bored or disenchanted with constant steaming and online events? Do you find it difficult to switch off and have no real downtime? Are you struggling to focus at work and bring new fresh ideas and perspectives?
In this hyper-hustle world, we live in it's hard to carve out quality time to develop yourself and have creative fun in the process.
Why not take time for yourself, do something different and push your comfort zones?
Taking the time to engage other areas of your brain you may not get to work on regularly will enable you to return to your day-to-day life with fresh perspectives and a renewed focus.
In the unique event you will:
Have fun creating your own abstract artwork

Learn creative techniques such as painting techniques and composition rules and experiment with unusual materials

Focus on imperfection and creating for the sake of it, not focusing on perfection

Engage with like-minded people

Take the time to switch off from the day-to-day and use parts of your brain that get neglected
WHAT WILL HAPPEN IN THE WORKSHOP?
Workshop objective – The main objective of the session is for you to create, and understand colour theory and the affect of your work.
Part One – How – abstract painting techniques and basic colour theory, inviting collective creative questions and suggestions.
Part Two – Create – give it a go allowing you to create where you feel drawn and have fun!
Part Three – Review – how did everyone get on? How did it make you feel? How does your work affect people in the group?
What do you need to take part?
Messy clothes and shoes, and….
Art supplies:
Dust sheet – plastic or fabric (an old double duvet cover can work well)

Canvas boards or canvasses (whatever you prefer to paint on I will provide paper for you)

Pallette pad

Basic colour acrylic paints

Brushes and palette knives (whatever you prefer to paint with)
Haven't got your own art supplies, don't worry… I can grab a kit for you can collect on the day for an additional for an additional £30 Grow Art Kit.
It will be ready on the day for you to work with. You can also put everything into practice in your own time and use everything again and again.
Lunch isn't provided but there will be an opportunity to grab lunch locally or bring a lunch with you.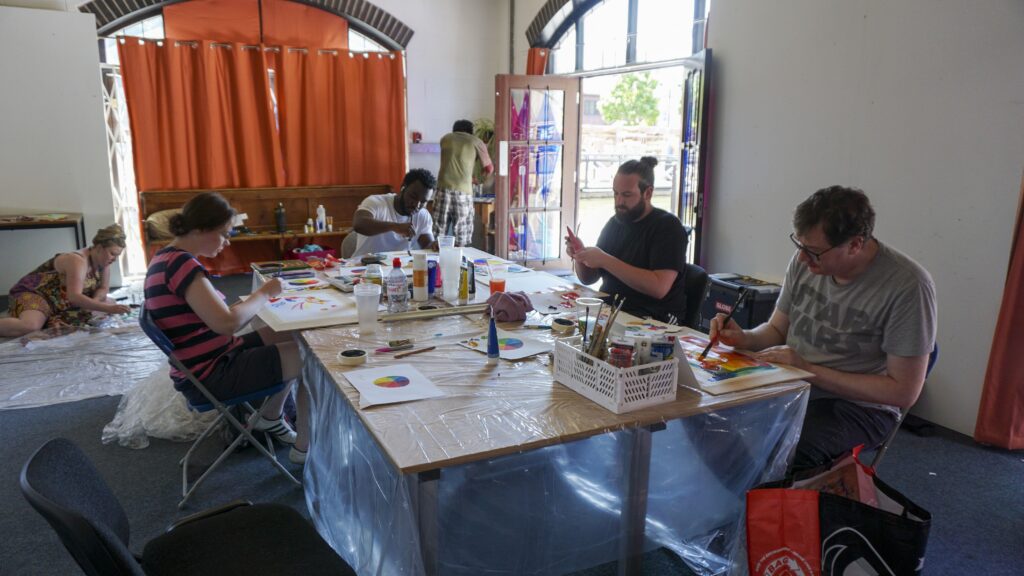 Location
The Tin Community Space