Ohm from Ohm : Vieon + The Frixion + Nature Of Wires + Rodney Cromwell
11/05/2018
8:30 pm - 11:00 pm
£5.00
Music made with machines, operated by people soundtracking a world of electrical connections.
Four acts who share a synthetic aesthetic; bringing their electrical sounds and visuals from the motorway to the stage.
Location
The Tin At The Coal Vaults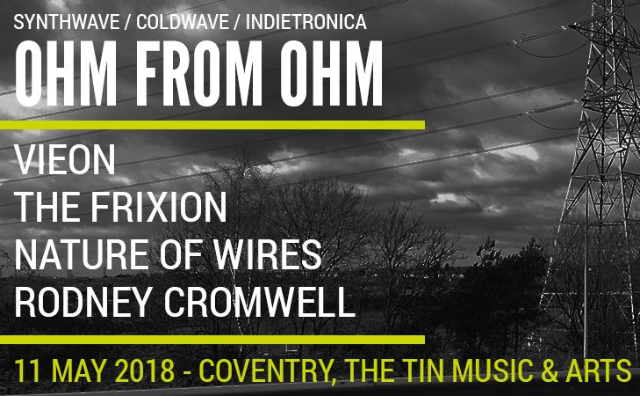 Some events we host have concessionary discounts for some groups such as people who are unemployed or on a low wage, under 16s, registered disabled and students. We also offer discounts for groups of 6 or more. For more information email: sarah@thetinmusicandarts.org.uk.
We offer free Personal Assistant tickets for all of our events. Please bring proof of discount or email sarah@thetinmusicandarts.org.uk for more information.
The Tin Music and Arts aims to be as accessible as possible and is committed to working towards the Attitude is Everything charter of best practise. For more information about PA tickets and venue accessibility please go to http://thetinmusicandarts.org.uk/about/accessibility